Do you already know about the WordDive language course? In this post, I will introduce you to the online course for language learning. You will probably want to exchange your Christmas present after you've read this…
In addition, you have the unique opportunity to win something great – but more on this at the end of the post.
The WordDive language course offers an innovative way of learning languages
WordDive is a Finnish StartUp company that was founded in 2010 and has already won several awards for its digital online language courses. Over the last 3 years, WordDive has increased its sales by 560%. With this growth, the company has become one of the leading online language course providers in the Scandinavian countries. The learning packages are designed for pupils up to adults and convey learning contents in a playful process. This company makes learning fun for everyone! WordDive focuses on the ongoing expansion of your vocabulary. It gets you motivated and excited about integrating new languages into your daily life so that you can actively practice.
Learn successfully with playful methods
One of the main reasons why WordDive is so successful is because of its innovative and playful concepts. It uses games to teach you languages. So next time you want to log on to play bejeweled, try this first! It has two primary modes.
In the easy game mode, single words or short phrases get magically learned through fun games. In the main exercise, you can further internalize the vocabulary you already acquired by practicing with context-appropriate sentences.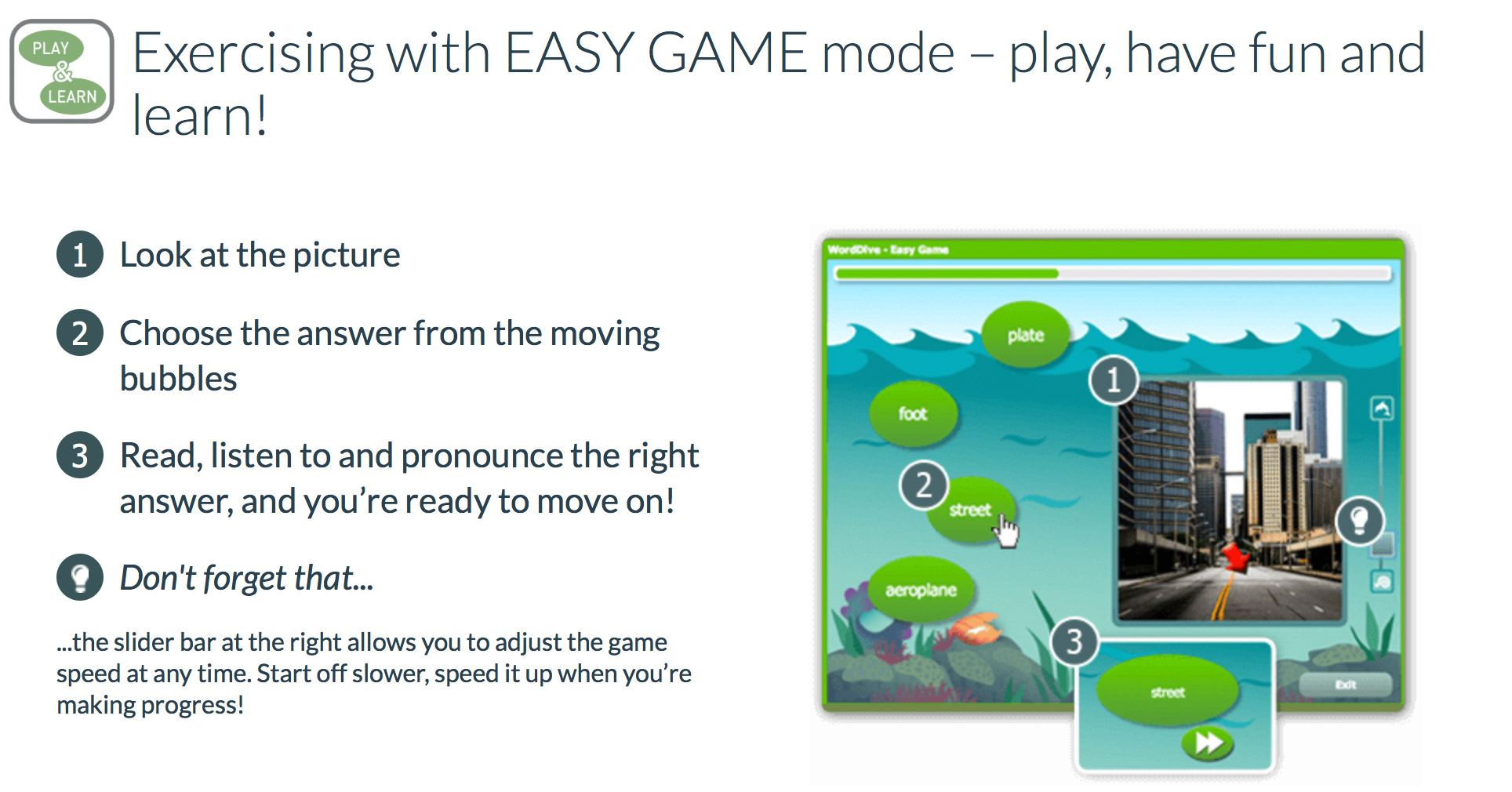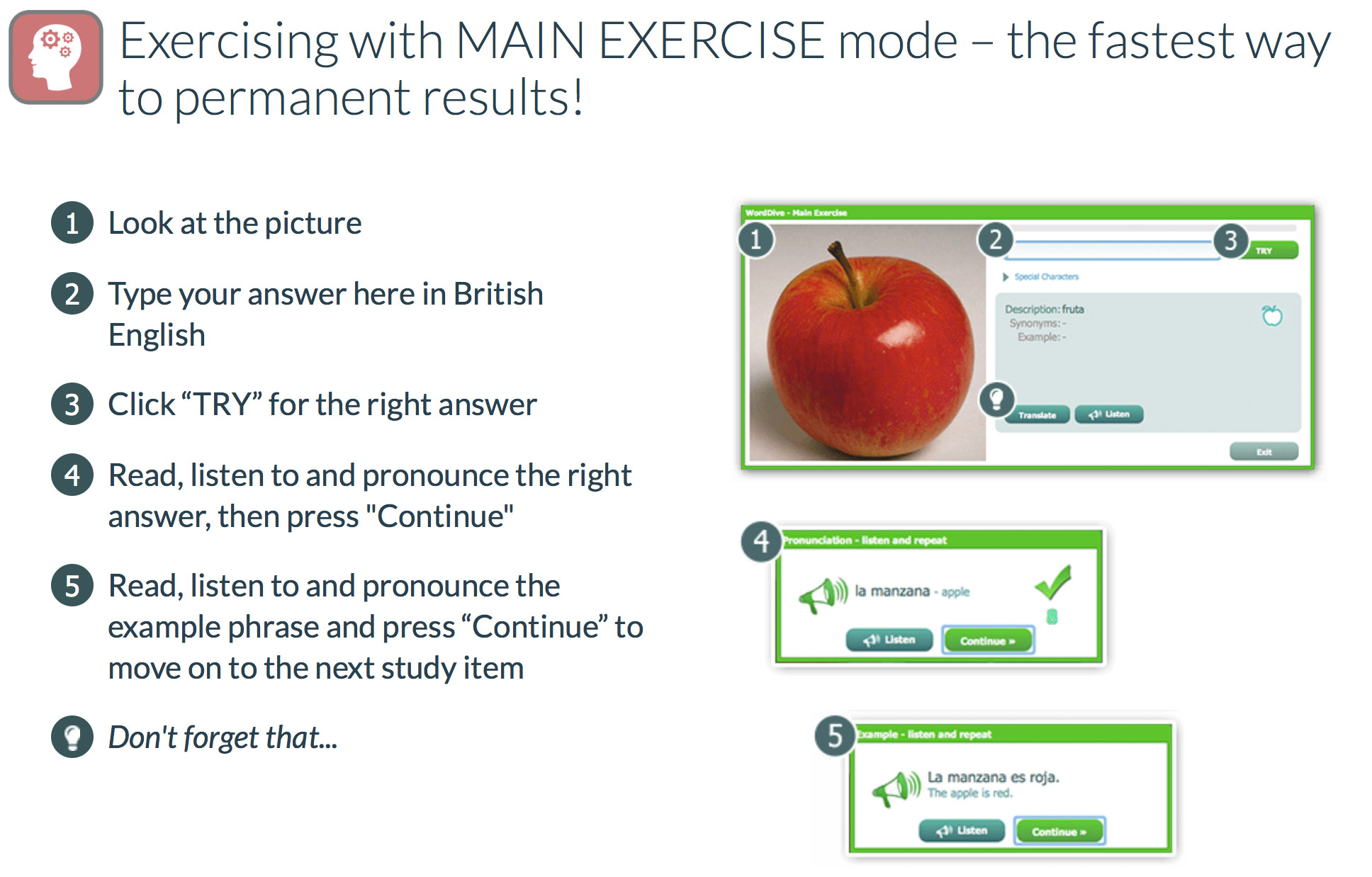 You receive a certain number of points for each correct answer. There are point deductions for wrong answers in a staggered form depending on the type of error. Various forms of support help you to find the right solution.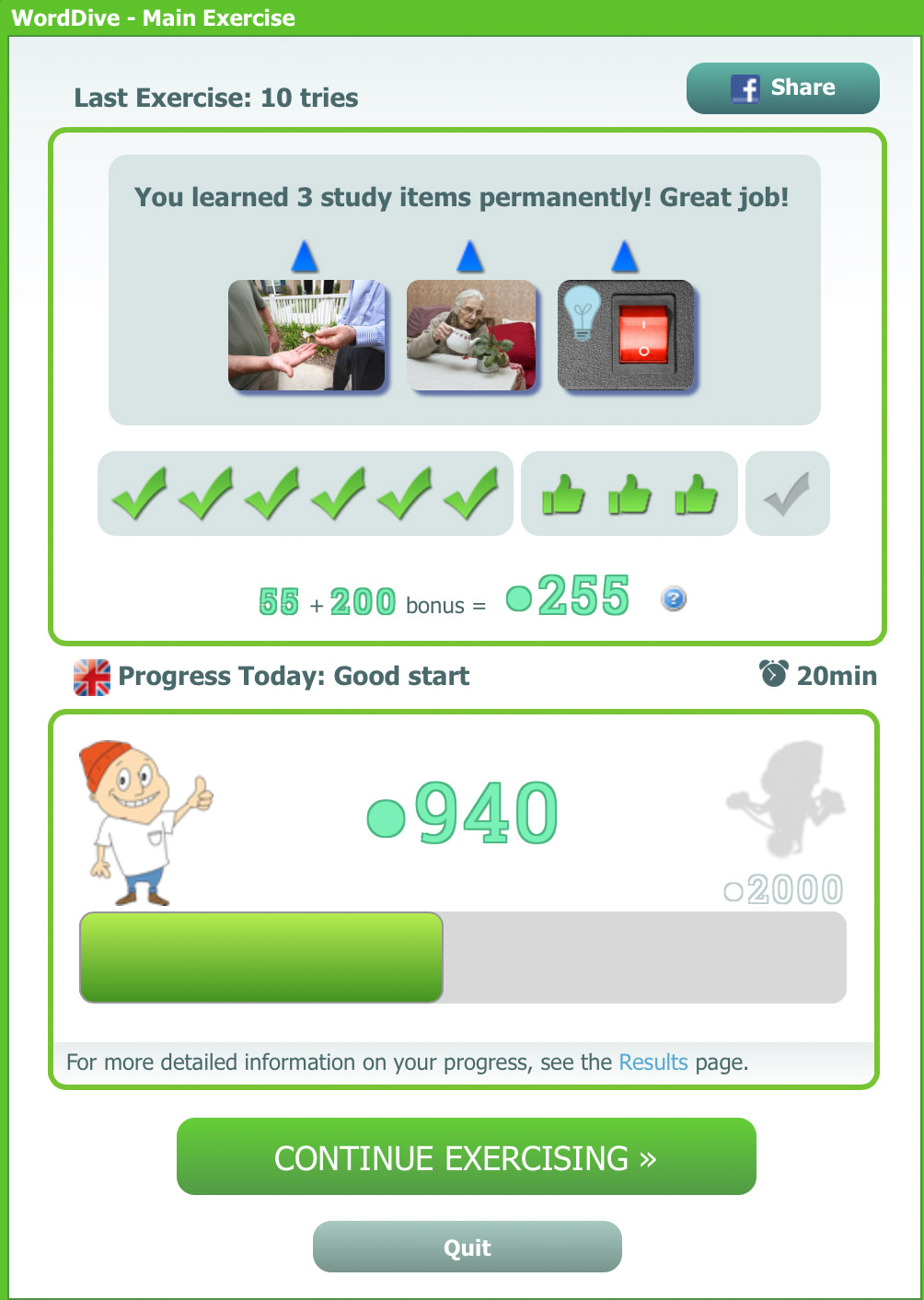 The points you earn allow you to climb a ladder until you have reached the upper end. For the reward you can jump from the jumpboard and pick up your reward in the sea.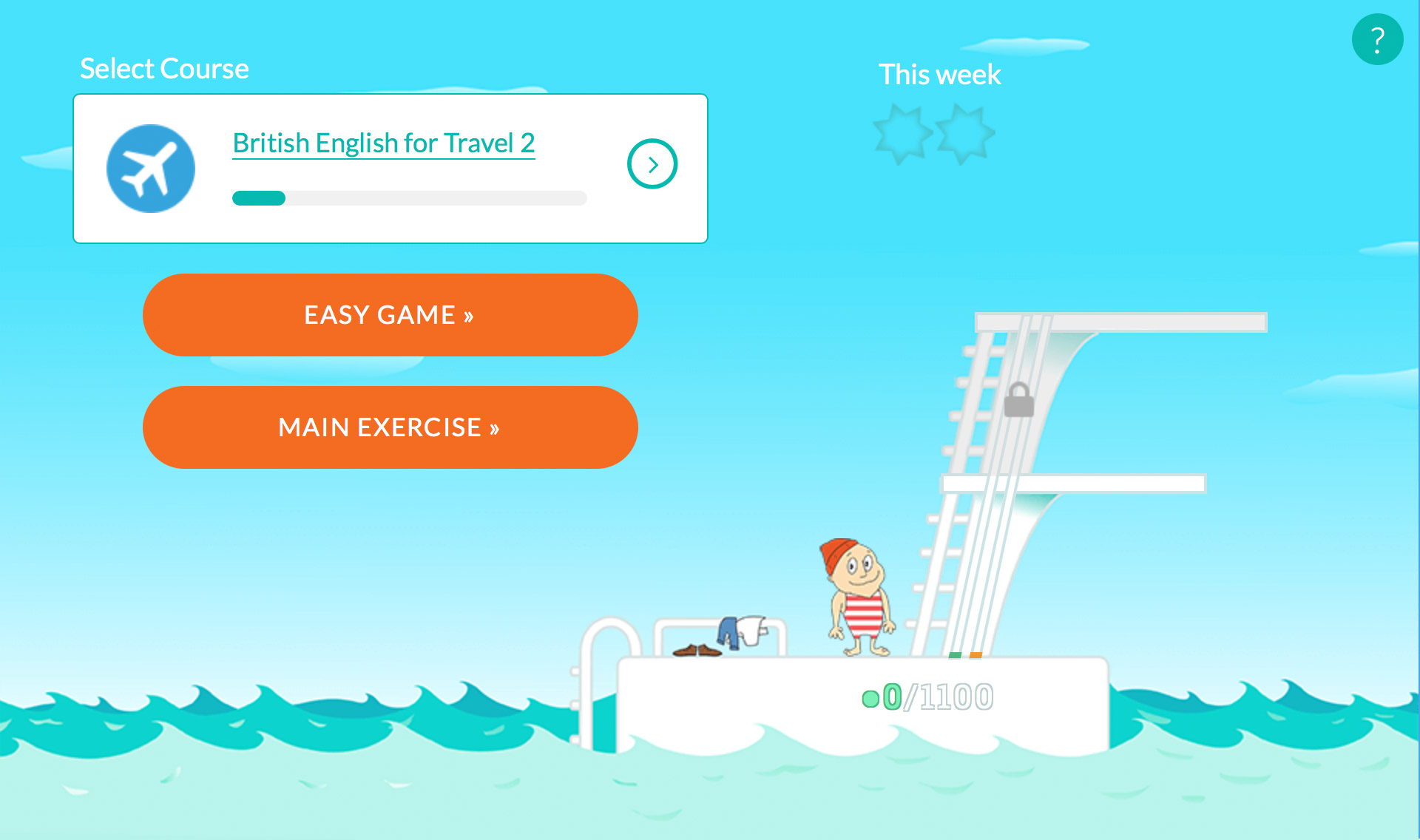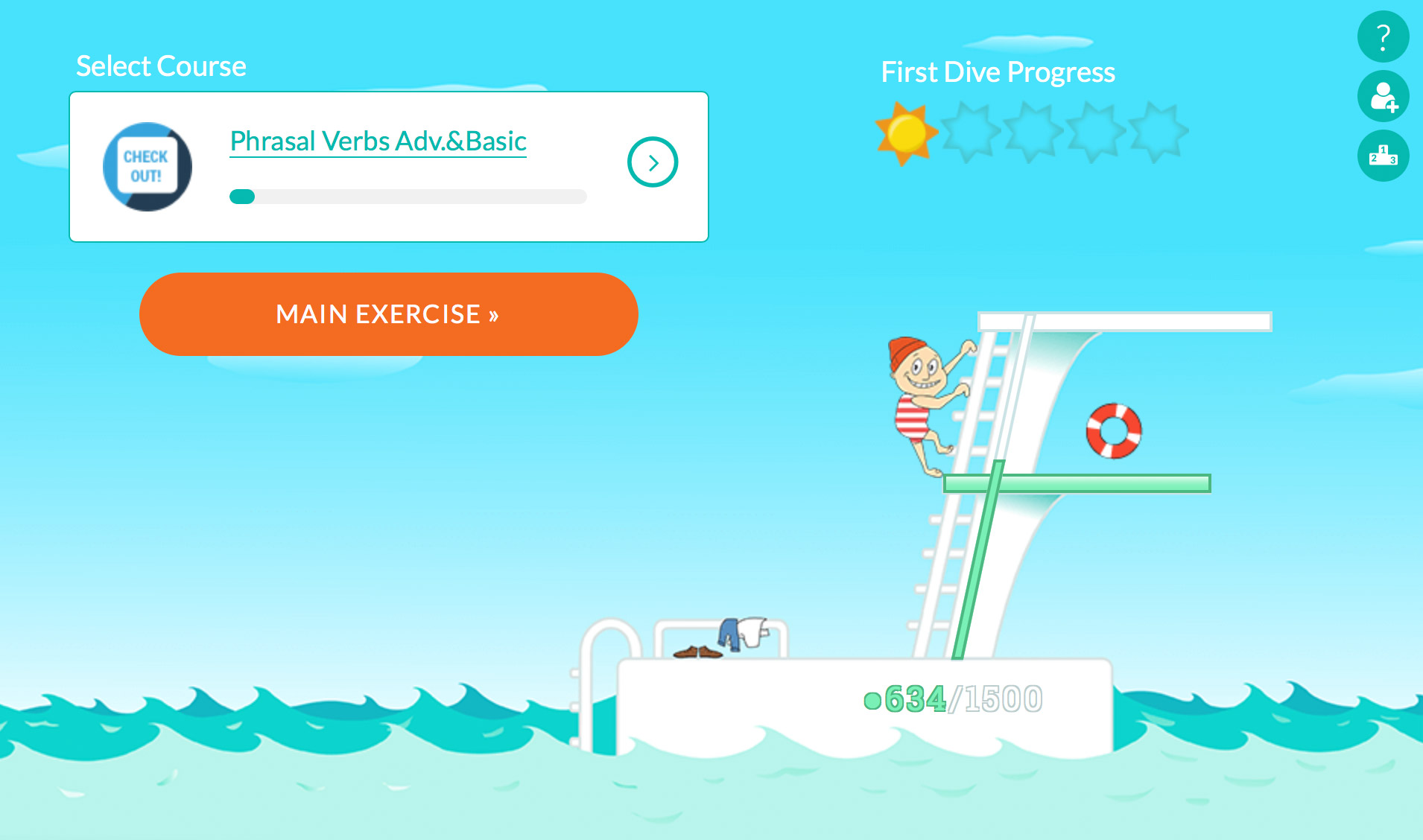 The social part of WordDive
The language course does not only allow you to challenge yourself personally. It also allows you to invite your friends for a little healthy competition. The rules are quite simple: whoever collects more points by learned words is the winner. This helps to motivate each other to continue and makes it even more enjoyable.
In this way, WordDive is already suitable for younger learners in order to speed up their learning of a language. Since there is a child in many adults, it still increases the fun factor of learning even to old age.
The principle of "multimodal association"
While the basic concept is designed as a playful game, WordDive makes use of the principle of multimodal association. Multimodal association involves the use of multimedial stimuli to stimulate multisensory perception.
This sounds quite complicated and a little like technical Chinese. But what does it really mean?
Basically, WordDive uses different tools during the exercises to interact with different senses.
Images are perceived by our eyes and stimulate our thinking. The linked audio files with the voices of native speakers train your listening comprehension. Reading is improved by the corresponding written texts. Writing and speaking – in self-talk – help to relocate the learned words from passive to active vocabulary.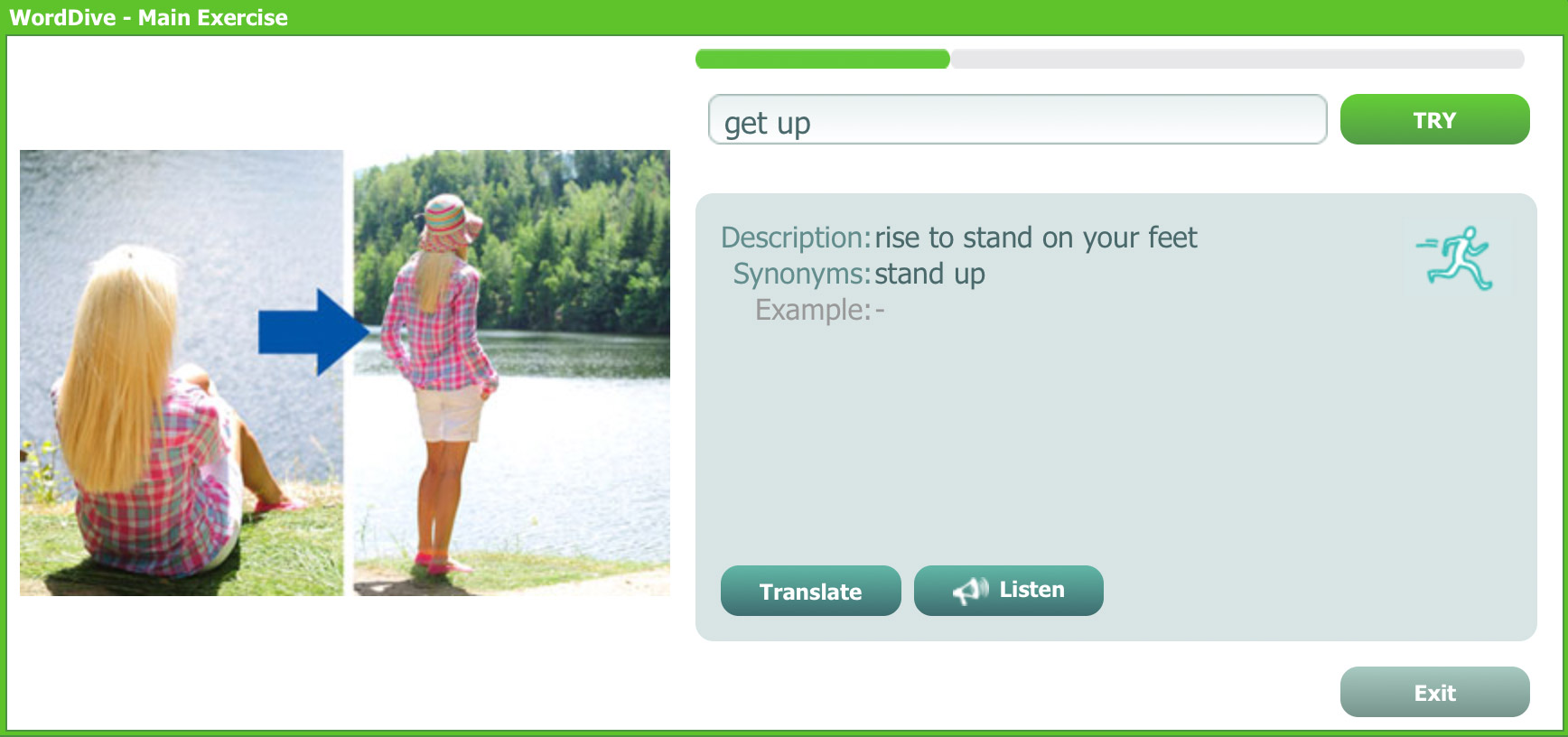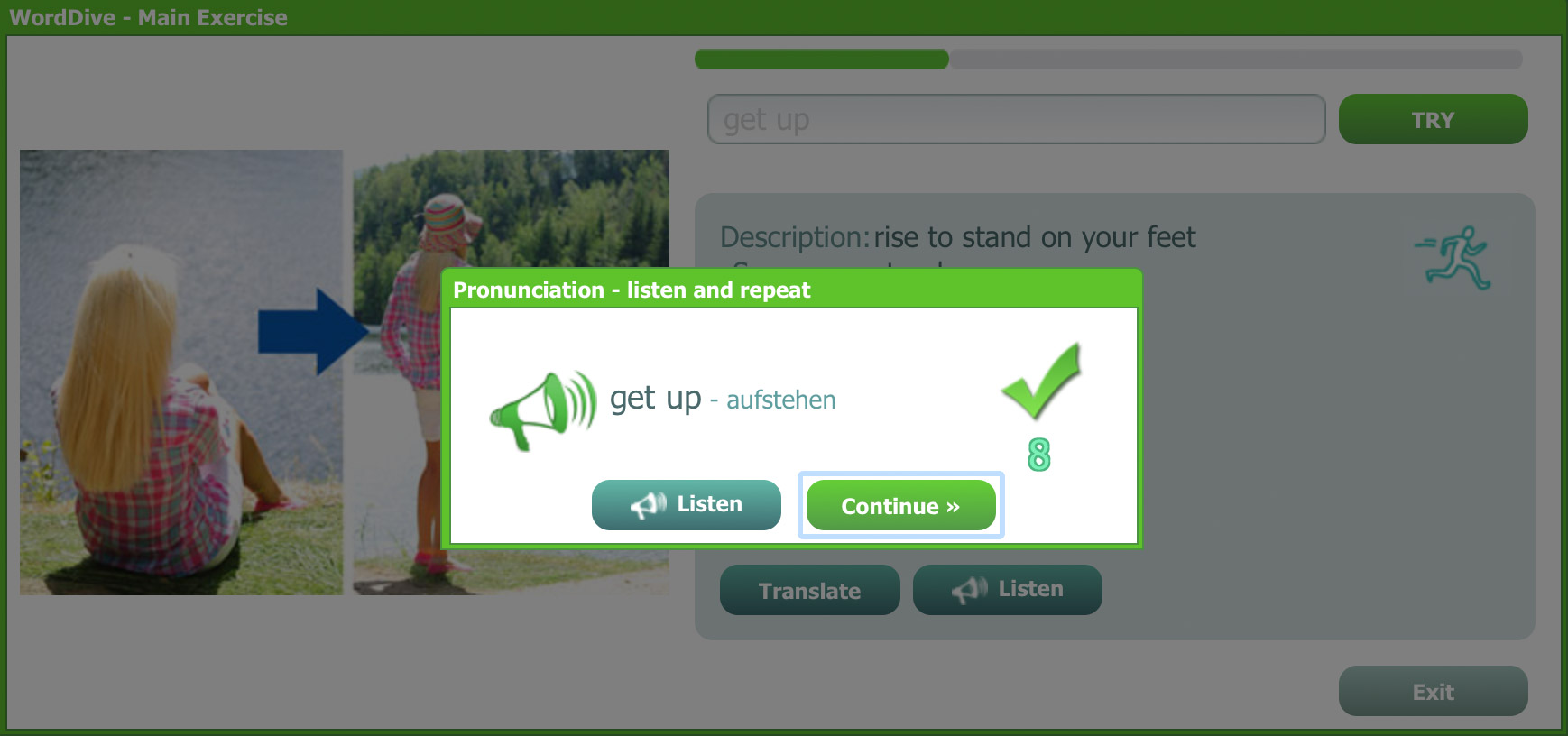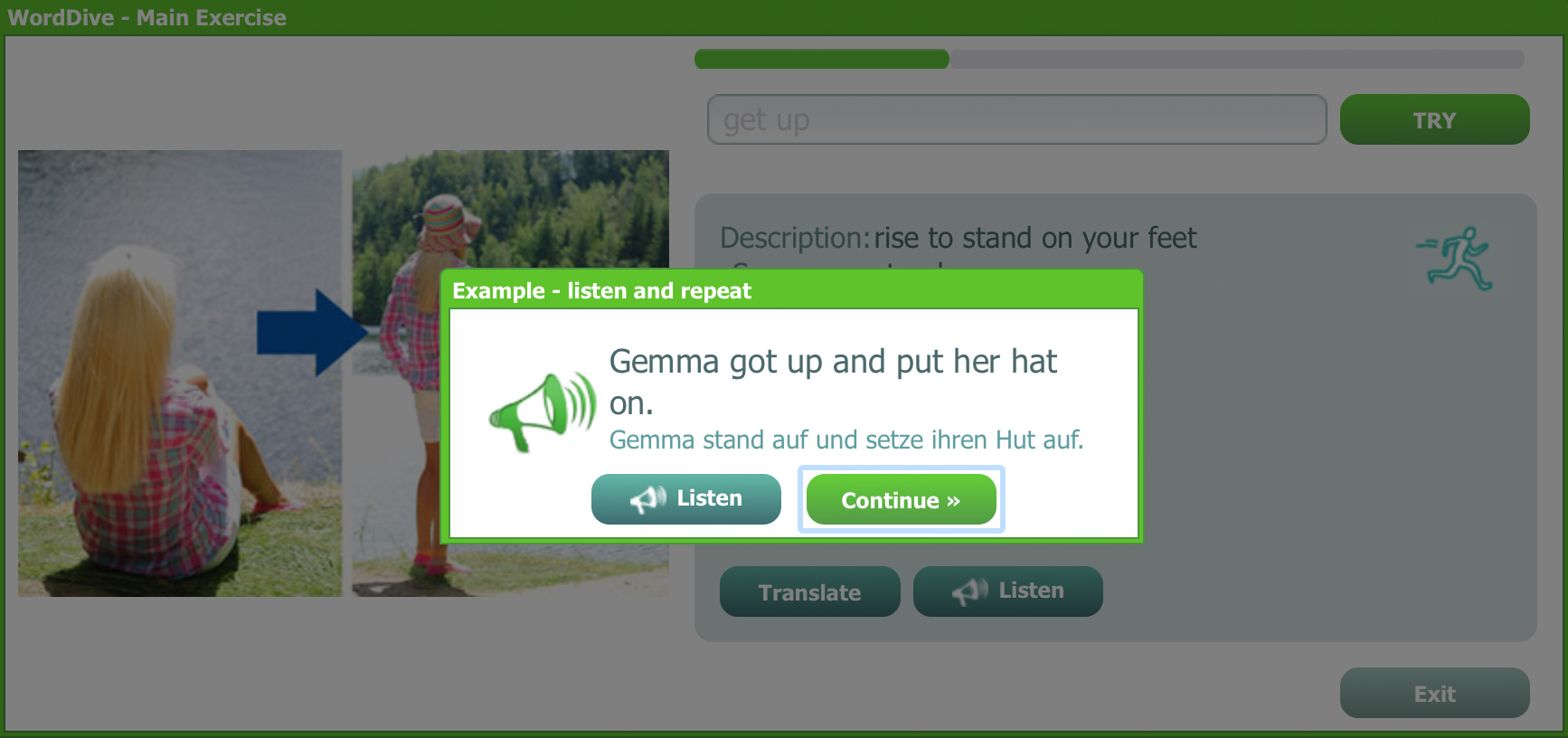 WordDive and Types of Learning
It doesn't matter what way you learn best (visual, auditory, motor), WordDrive gives you what you need. In addition, the contents are absorbed more quickly by your memory because it engages your emotional brain through enjoyment and friendly competition. This further enhances memory and learning. The only thing it lacks is talking verbally to others. If you want to boost learning even more, I recommend you call the friend you are competing with and practice. Even if not, you are certain to benefit from using WordDrive regardless.
The available languages ​​at a glance
Currently, the WordDive language course is available for 10 different languages. These languages are: English, German, Spanish, Finnish, French, Swedish, Japanese, Estonian, Russian and Italian. Regarding the English language, you can choose between two separate courses for British English or American English. Other languages (such as Turkish and Chinese) are being worked on, but a release date has not yet been announced.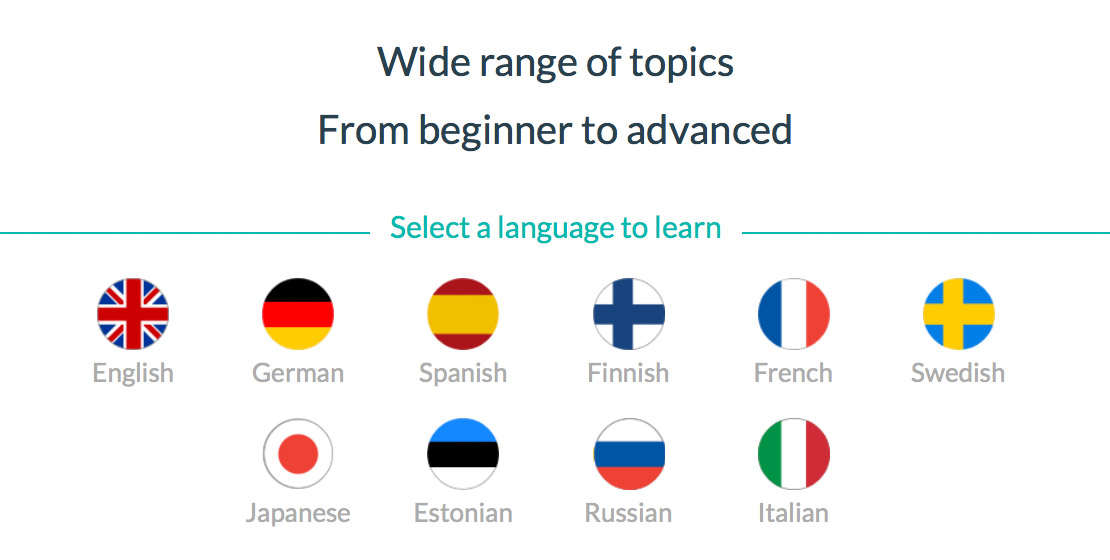 Example: English courses
The most comprehensive language program it offers is English. In addition to the above-mentioned distinction between British English and American English, there are 3 different courses for both dialects.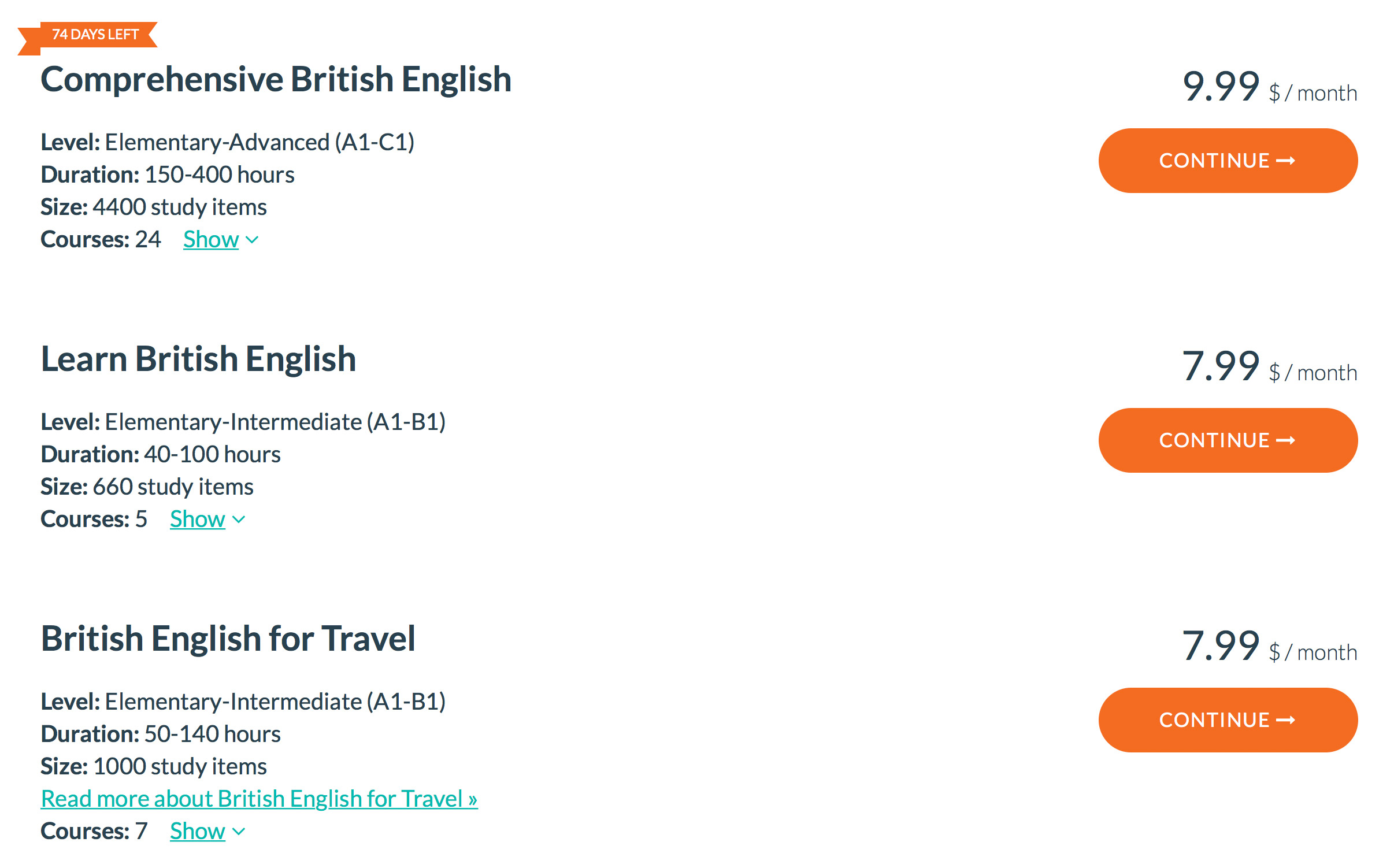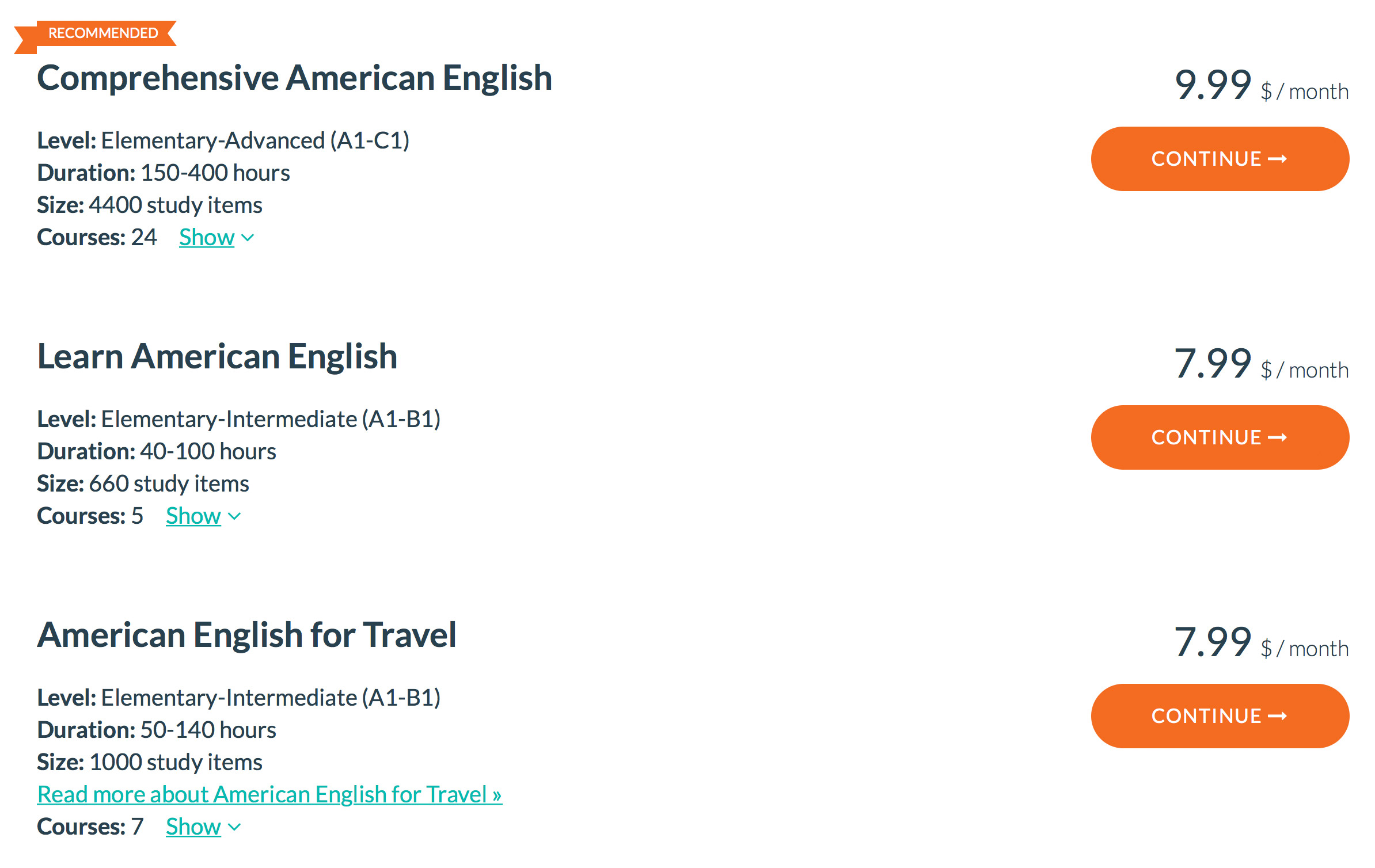 The different course sections
WordDive is divided into five sections.
The most essential part is the part with the two exercises, which I have already discussed in detail above.
In addition, you have access to content, results, vocabulary, and settings. Two additional offers are the grammar pages and the "English-Abi". However, the "English-Abi" is an independent English course, which was developed as a final exam prep course for high school seniors in Finland and Germany.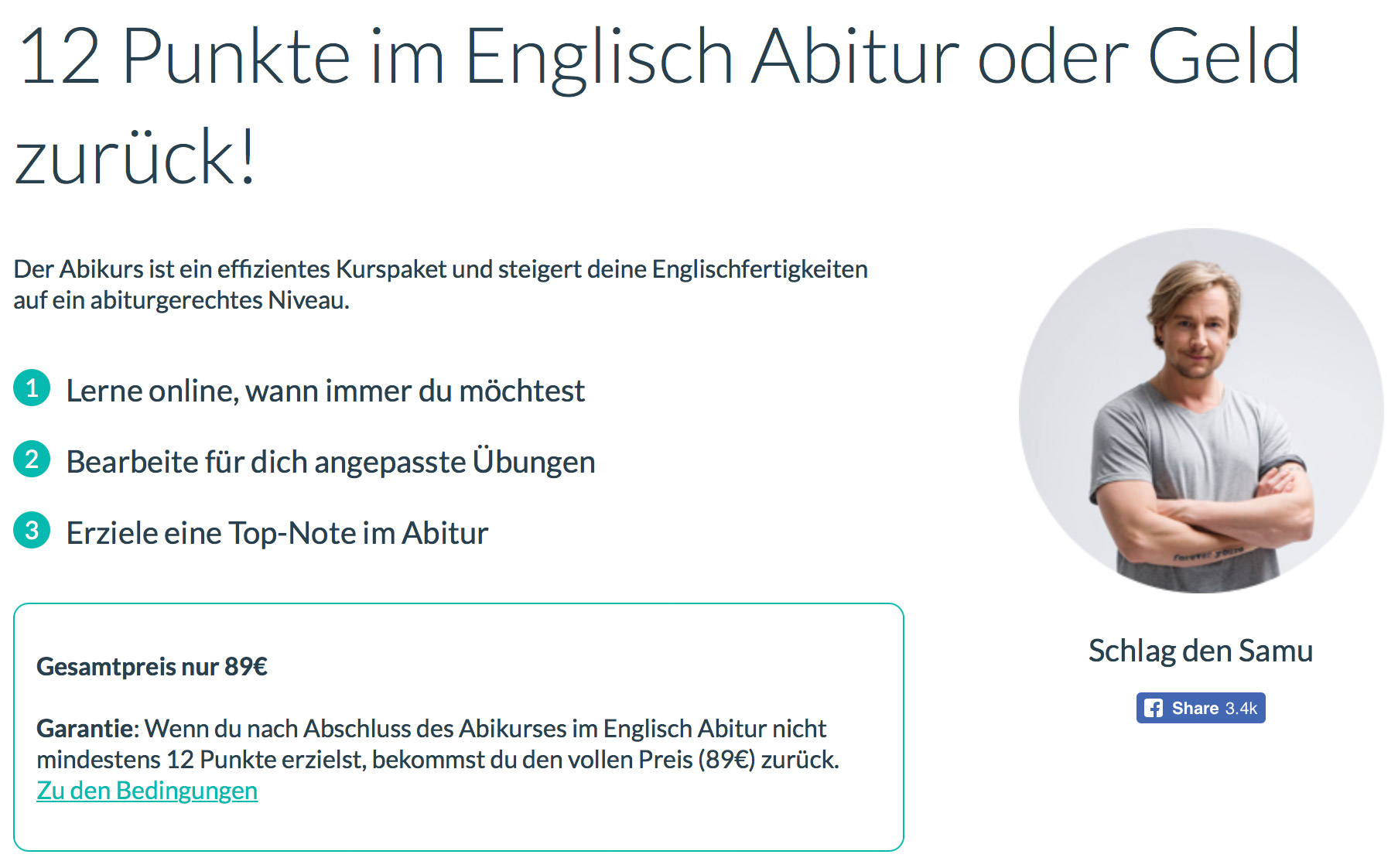 Learning with WordDive
WordDive keeps track of your way of learning. This personalized customization allows you to optimize and maximize your learning success. This means that all of your learning will be adapted to your individual needs.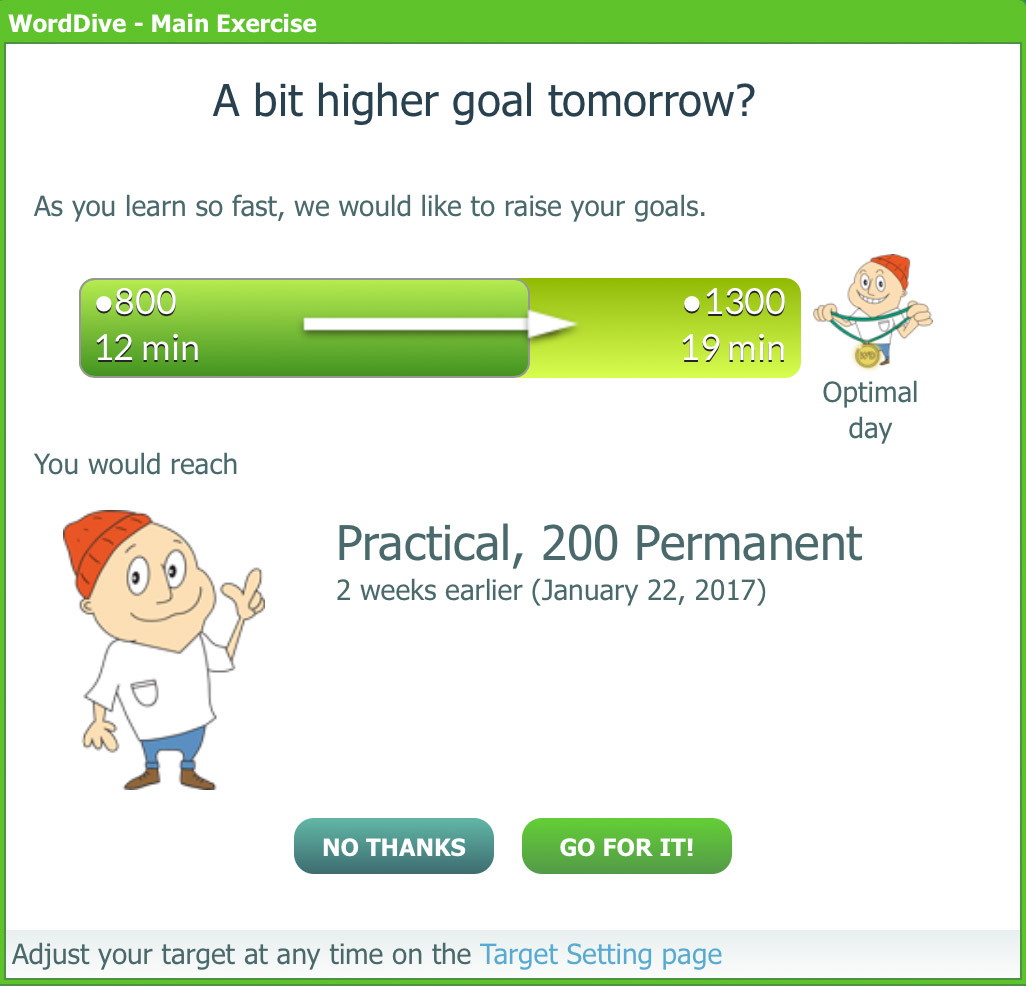 The method of WordDive makes use of the SRS (Spaced Repetition System). In other words, a corresponding algorithm polls words you already know well less often than words you are still learning. WordDive distinguishes three levels of learning:
Started: That's where to find the vocabulary that you have begun to learn.
Exercised: Under this heading, you will find vocabulary that you already know, but which requires more exercise to be permanently learned.
Permanently Learned: This level includes the vocabulary that you can use easily and naturally. You can already use this vocabulary intuitively and without much thought.
The choice of content
In the content section, you can switch between different courses and specifically select topics of a course. In addition, you can specify the difficulty level of the words to be learned. There are three different grades. The percentage that you have worked on so far will be shown in the respective sub-section.
Learning outcome monitoring
In the results section, you get feedback on how far you have already come with your language skills.
Avatars, which are shown with advanced progress, help to motivate and to keep you on track. Diagrams show you how far you have already got in the respective level. In addition, you can also display your progress for partial language courses.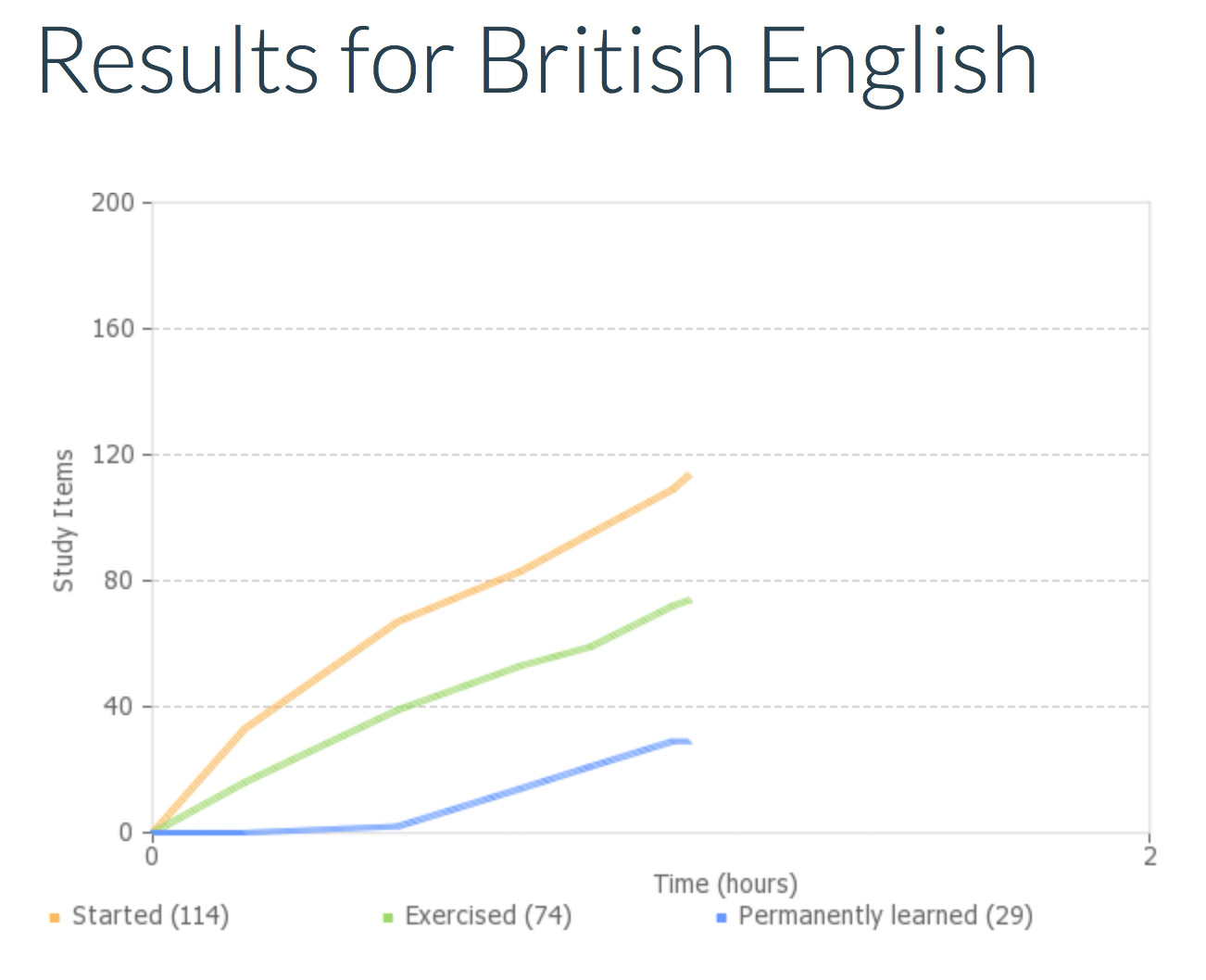 Dealing with the vocabulary
Under the heading vocabulary, you can review and repeat your selected vocabulary. Translations are displayed when you mouse-over the vocabulary or example set. This comes in handy from time to time. In addition, you can listen to the answers and examples from the exercises again.
Without any grammar at all, it doesn't always work ...!
On the grammar pages* you get more information on basic grammar topics for English, Spanish, Finnish, Swedish and Russian. For example, when practicing English you will find how to build and correctly use the singular and plural, the correct use of articles and uppercase letters, various usage forms of the verbs, and much more.
The different platforms
WordDive can be used on a desktop PC or notebook as well as on your smartphone or tablet. Both iOS and Android systems are supported. For the users of Microsoft devices, sorry but there is no solution yet.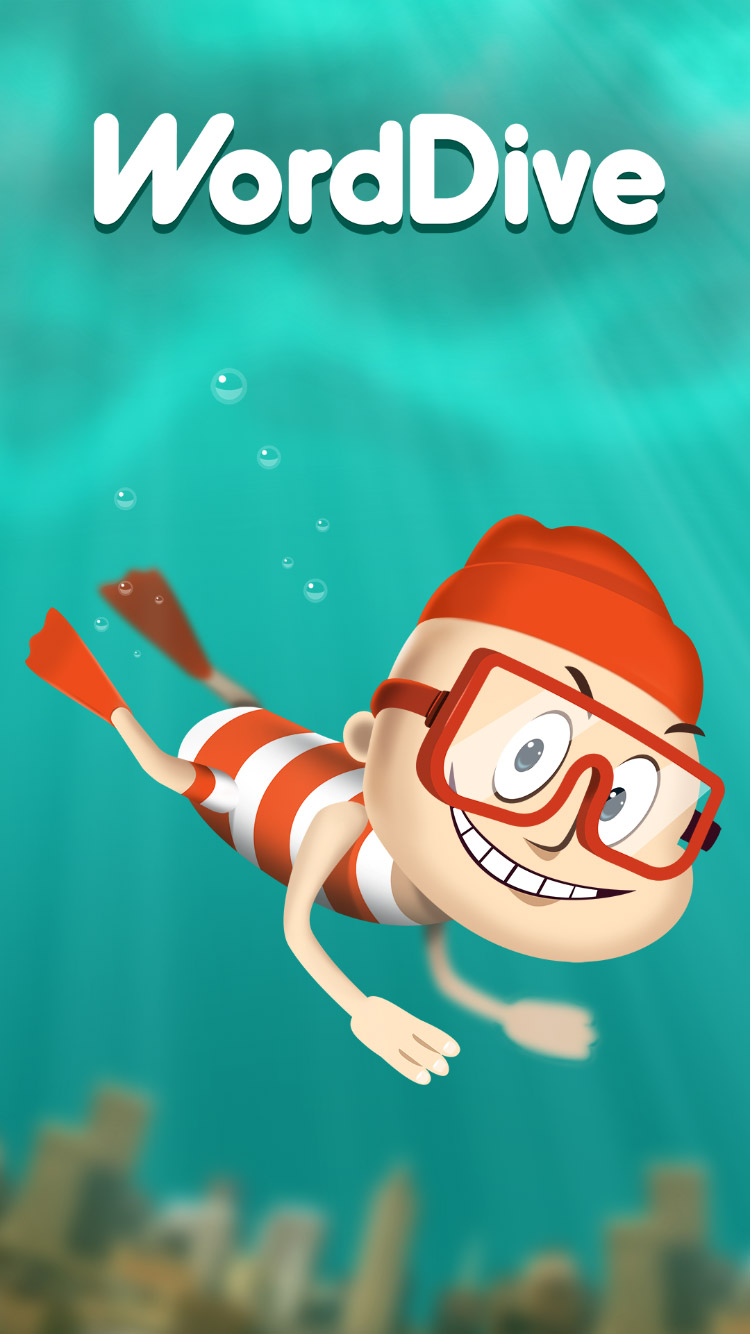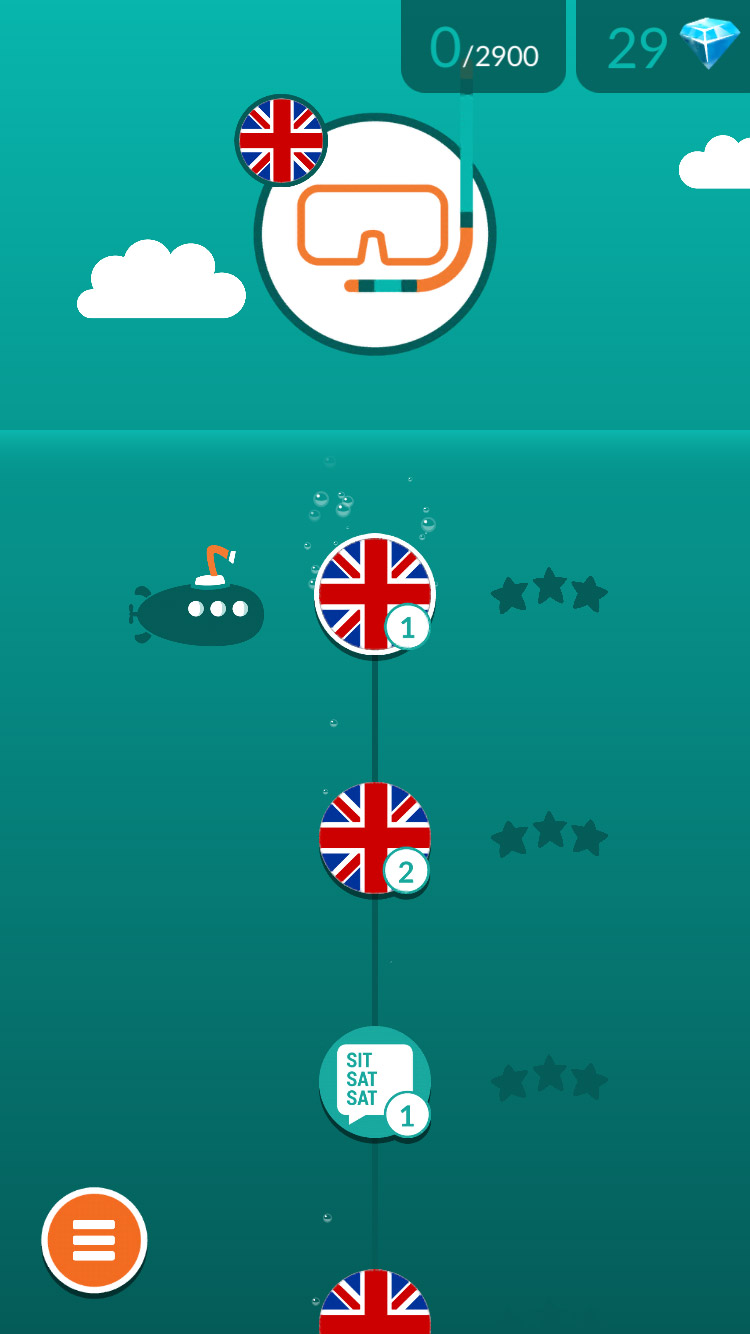 Recent updates
Since I first heard about WordDive, a lot of work has been done. They have made quite a few new developments. Here are some of my favourites:
Additional course content
Revised iOS app
Improved weekly progress report
Publishing of the Android app
More content on the grammar pages
Increased ease of use
And much more…
The team seems to continue to expand and optimize its courses. There is a strong dedication to growth and improvement, so you can always assume that you will be getting the latest advancements and new features. New languages are also certain to be added in time.
But how much is a WordDive course?
Of course, the language course is not for free in the long run! But you can test language courses with WordDive for the first two weeks free of charge. If you continue to improve your language skills, the subscription costs $9.99 USD per month. This applies to the complete packages. However, you only pay $7.99 USD per month, if you choose an entry or travel package.
Preliminary conclusion
You can make fast progress by using WordDive for only a short time.
However, I recommend that you combine it with vocal practice because talking to real people is essential and promotes the confidence in one's own communication skills. This component of active communication is missing in WordDive unfortunately.
I also noticed that it is missing an offline function. A connection to the Internet is essential to use the course. This is why the course is only suitable in a limited way and not the first choice for travelers who are traveling in areas with limited wifi and mobile network access. Personally, I like to use waiting times like trips in public transportation to extend my language skills. In this case I would like an offline function, which offers the option to download partial courses and to synchronize results with renewed Internet access. It would be nice to be able to play some games and learn a new language while on my commutes from one country to the next.
Nevertheless, I think WordDive as a very valuable addition to other learning methods. Because the methods it uses to build up your vocabulary are very efficient. All the contents are fully sounded and you have access to a great learning outcome control. Moreover, the handling is intuitive, simple and fun. Use this link to get to the homepage* of WordDive.
Have a look at it and try it out!
***
Note: WordDive has supported this blog post. The post simply contains facts or reflects my own opinion. Used images are screenshots from the WordDive websites or the corresponding iOS app. This post also contains affiliate links (marked with *).
What else to say …
With regard to other learning methods, in addition to reading, listening and watching media in other languages, you can use online platforms, which focus on interaction with language teachers and native speakers. For more information, see my language resources.
I will take a closer look at WordDive in a long-term test and hope that I will have the opportunity to present my results. However, I am especially interested in whether this method of learning is also well suited for languages ​​with a different writing system, as is the case, for example, in Japanese.
Well, did you want to get more? Or have you tested WordDive already and would like more time for learning? What about putting a good resolution for the New Year into action? With WordDive, you can start learning the language you've been thinking of for a long time. And with luck, you can even win a language course from WordDive.
The WordDive raffle – unfortunately already over!!!
The Santa Claus… um… Of course, I mean WordDive… provided me with 3 language packages for this post, which I may raffle among my readers. Each of these language packages allows you to use one of the offered languages ​​for 3 months free of charge. That's awesome, isn't it?!
Note: The "Abi" course is excluded from this competition. To be fair, if you've already won a language course in the last raffle included in my German blogpost, you are not in the profit for this one.

How do you participate?
Very easily:
Leave a comment with the language you would like to learn, and why you are interested in this language, until January 14 2017.
Subscribe to my newsletter and share this article with your friends. (No prerequisite for participation in the raffle!) But: That would be a great pleasure for me, because the more people this post reaches, the higher is the chance that I will be giving away something soon again…)
From all the entries received until midnight of the above-mentioned day (German time), I will be giving away the 3 language courses in the following days. The lucky winners will be notified by email within one week and mentioned at the end of this post.
What else to know about?
If I have not received an answer to my email within 3 days, the language pack will be given away to the next one.
The legal process is of course excluded.
PS: Please do not be surprised if your comment does not appear immediately on the page. To avoid spam, I need to unblock your comment. But no worry! You will still participate as long as you have sent your comment on time. Obvious spam is by the way immediately deleted and not in the profit.
And the winners are:
Congratulations! Have fun with the language course!
There is also a short video about the raffle drawing:
***
You want to know, as soon as I've a new raffle for you? Subscribe to my newsletter or like my page on Facebook. You won't miss anything anymore.